Kills
Bad Breath
Banishes
Bacteria
Prevents
Cavities
Detoxes
Mouth + Body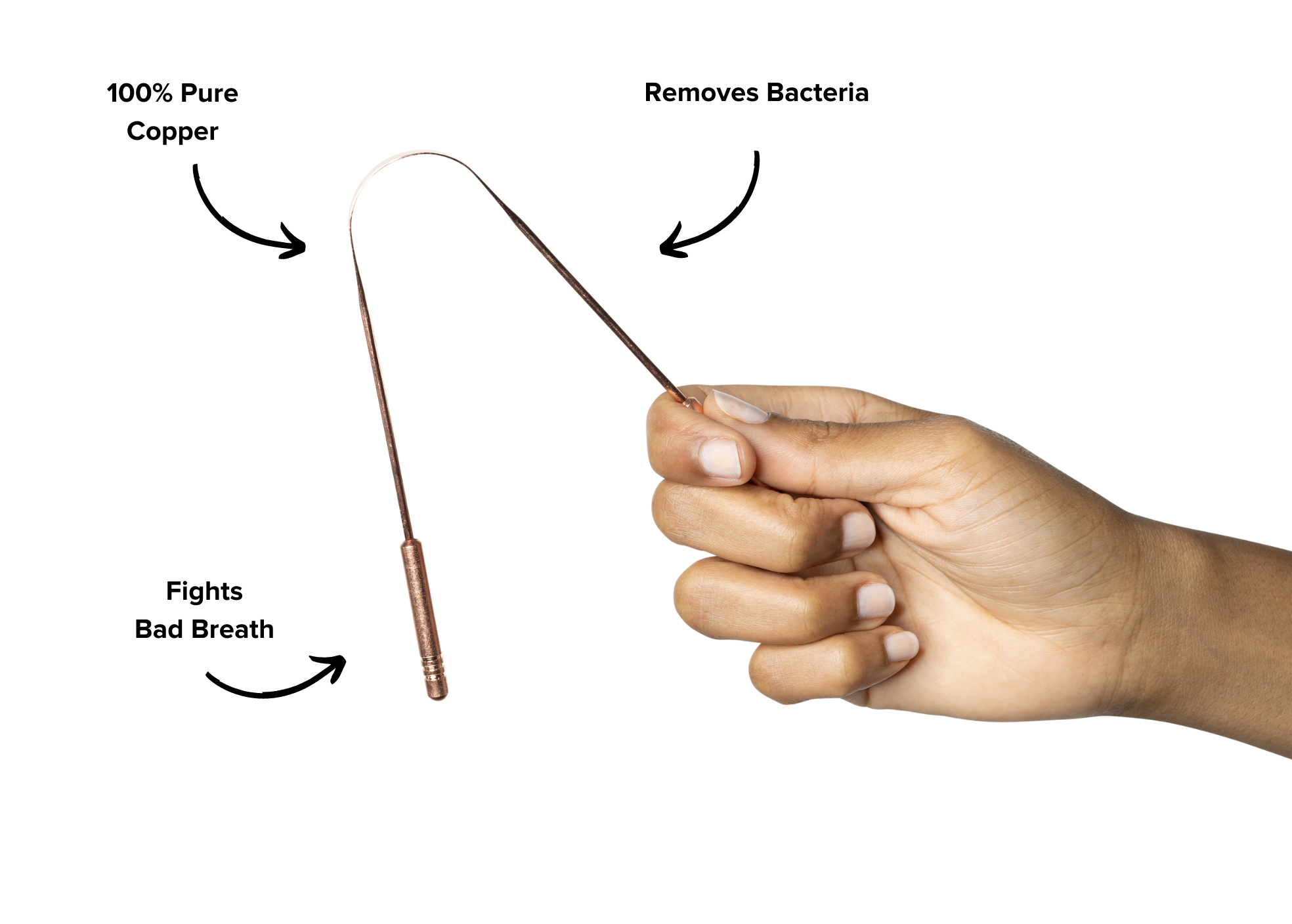 Meet your taste buds new best friend.
How Does It Work + Benefits
The tongue is one of the most neglected organs in the body. Why won't someone think of the tongue??! As a matter of fact, we have. Brushing, flossing and mouth wash aren't enough to *truly* clean your mouth — you need a tongue scraper to banish bacteria and build-up that's responsible for bad breath and bad health.
Our take on the ancient Ayurvedic oral care remedy is the perfect companion to your toothbrush. A healthier mouth = a healthier you.
Removes plaque & bacteria
Assists to improve digestion
Assists to improve taste buds
Fights bad breath
100% pure copper.
Over time, copper can naturally tarnish. The quick fix for this is cleaning it with a simple solution of salt and lemon juice. For more details see HERE
AUSTRALIA
Purchase over $50 -  FREE
Purchase under $50 - Flat Rate $6.95 AUD
USA
Purchase over $50 - FREE
Purchase under $50 - Flat Rate $10 AUD
3 Day Express - $20
REST OF THE WORLD
Calculated at checkout.
RETURNS & REFUNDS
We offer 30 day free returns (AU & US ONLY) if you receive it and change your mind or products are faulty. Products must be unopened and unused.
SMELL YA LATER,
BAD BREATH!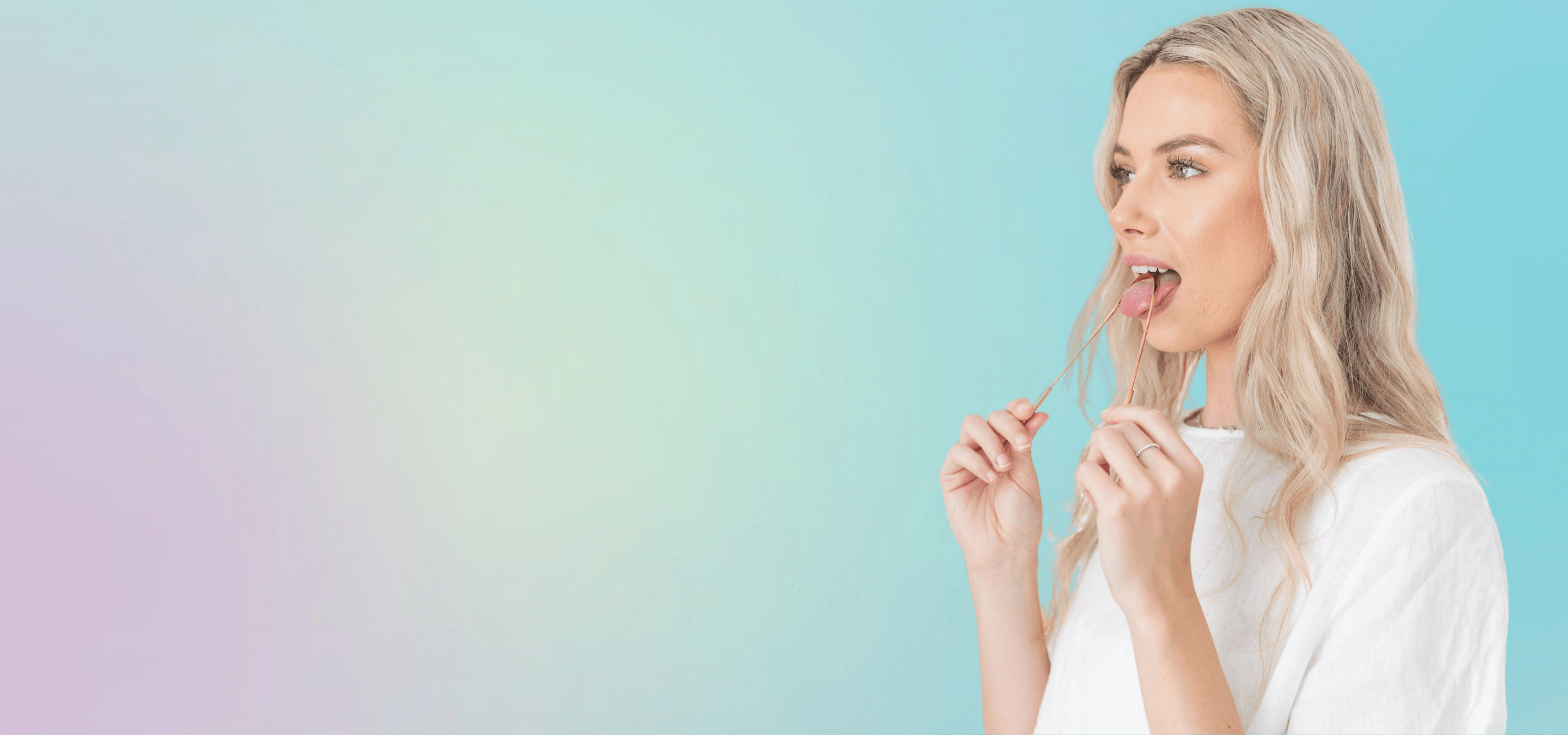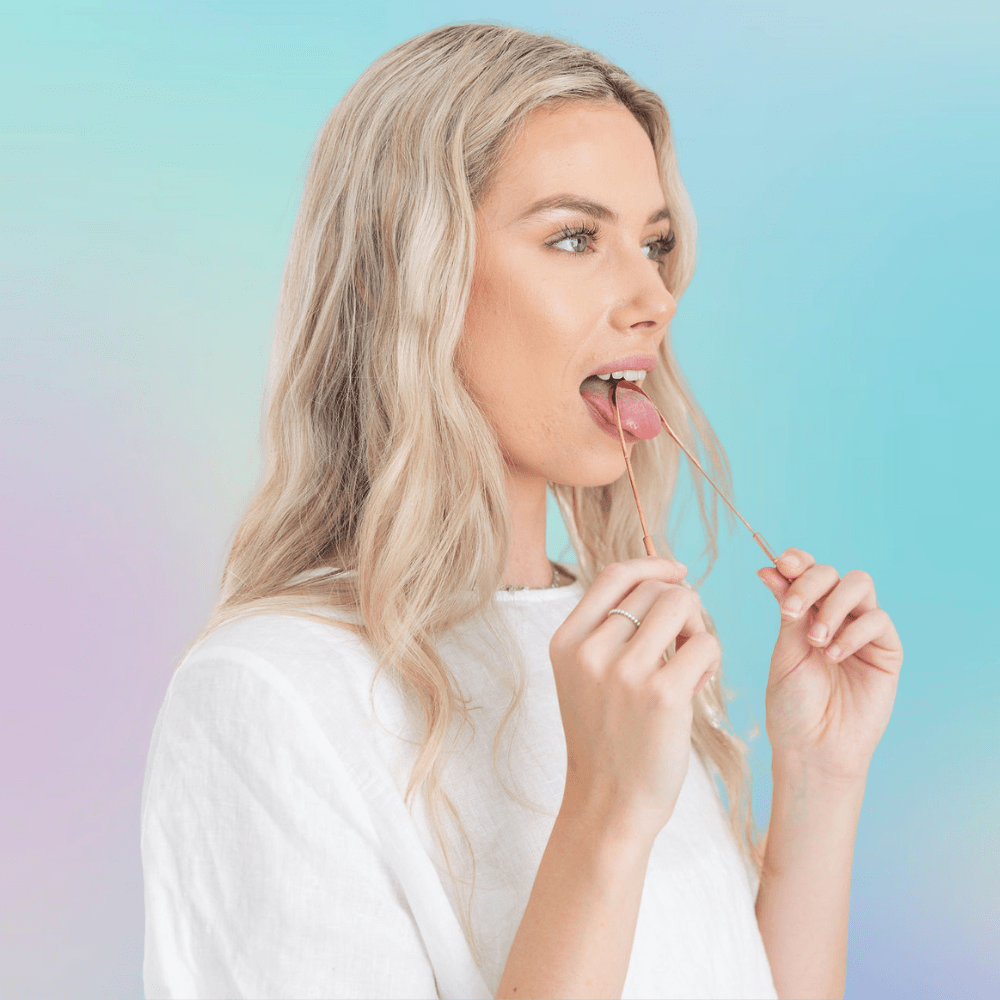 Did you know your tongue is a hotspot for nasties? It's a bit like an out-of-bounds area for all the bacterial baddies in your mouth. That was until this tongue cleaner came along, anyway.

A magic wand that scrapes away the foul-smelling film coating your tongue, taking any plaque, toxins and bacteria with it. But the benefits don't stop at the mouth. It will also prevent bacteria spreading into your body and boost overall immunity.

Can your toothbrush do that? No, didn't think so.
What it's made of

Copper
Naturally antibacterial & antimicrobial.
How To Use
Wash with warm soapy water before use
Hold by the looped handles
Place the horse shoe shaped edge at the back of your tongue
Apply light pressure, pulling it gently all the way forward to remove plaque
Rinse & repeat as needed
Great product
Great quality, quick delivery
Tongue feels fresh
Good product leaves tongue feeling clean
The perfect solution for bad breath
Thank you!!! I have struggled with bad breath for many years and never considered tongue scraping as a solution til I came across a friend of mine who swears by this product. After only 1 week i started feeling more confident and also comfortable to have conversations in close proximity and also in intimate situations with my partner
Hi Terri, thank you so much for your review and i am so so happy to hear the positive results this product is having for you. I often tell people this product can be life changing because it really can be! x sabrina - founder
SAVE ON VALUE BUNDLES
When you bundle you save! Take care of your teeth, mouth and health from morning to night with natural oral care essentials that have been combined for your well-being every step of the way.

We call it wellness for you and your wallet.
SHOP BUNDLES